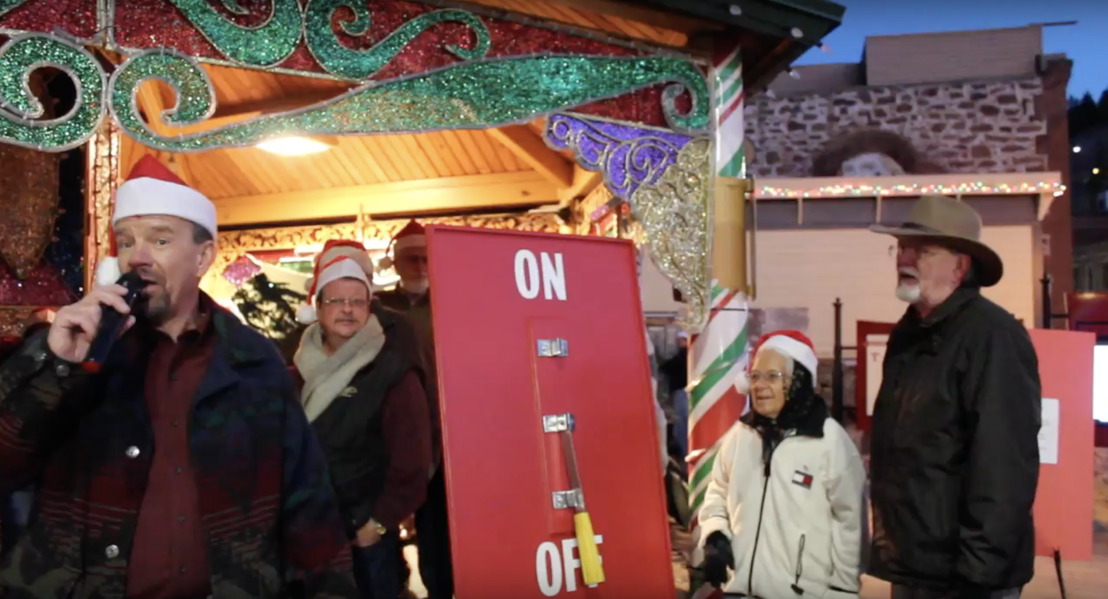 It's time to celebrate the season in Black Hawk with a holiday lighting ceremony
One of the largest lighting displays in Colorado illuminates the kick-off to the holiday season
The holidays are officially underway in Black Hawk! Mayor David D. Spellman and city officials will host the lighting ceremony to kick off holiday celebrations this evening in Black Hawk.
Last year, the eldest resident in Black Hawk, the Mayor's mother, Dolores Spellman, flipped the switch. She is a fourth generation Black Hawkite. This year, the two youngest residents, five-year-old Lila Blake and three-year-old Larsen Blake, will light the lights. They are sixth generation Black Hawkites.
Students from Gilpin County School will sing songs of the season, and guests are invited to enjoy steaming cups of cocoa, hot apple cider and cookies to usher in the holidays.
Here are some fun details about the City of Black Hawk's holiday displays:
The contractor that creates, maintains and installs the holiday decor is Alpine Artisan Studios

There are about 75,000 Lights in 69 trees

There are over 150 lamp posts decorated with garlands and 92 with red LED lit bows

There are over 110 props including signs, figures, snowflakes, wreaths and characters

There are 21 RGB wall washers

There is over a mile of LED rope light, a half mile of garland, and close to 500 pounds of glitter

Crews worked for three weeks to clean and refurbish the décor

It takes a 6 person crew one full week to install all of the tree lighting and another 6 person crew almost two weeks to install all of the props

Several more days are involved with the actual powering up

Removal and storage typically takes another week towards the end of January
Everyone will gather at the gazebo at Stroehle Square at the corner of Gregory Street and Main Street, the centerpiece of the City of Black Hawk holiday lighting display. Holiday lights will illuminate all of Gregory Street and Main Street as Black Hawk celebrates the season.
When: Tuesday, November 27, 2018, 5-5:30pm
Where: Gazebo at Stroehle Square, corner of Gregory Street and Main Streets, Black Hawk
About the City of Black Hawk
Since its first lode gold strike of 1859, Black Hawk continues to preserve the past while preparing for the future. The mission of the City of Black Hawk is to progressively provide cost-effective programs and services of the highest quality to the community. During the past 20+ years, more than $1 billion has been invested in land, casinos and related development. Today, Black Hawk is ranked 16th in gaming destinations by American Gaming Association, generating over 84% of Colorado's Statewide gaming tax and hosting more than 20,000 gaming visitors daily.